| | |
| --- | --- |
| Posted on June 16, 2012 at 7:30 AM | |
It is my relief to write that I have been left in relative peace the last few days.
The woman seems to have been preoccupied with something, but this has given me the space to observe some positive aspects to her character.
For instance, she introduced me to a new invention, the TV, and showed me a story called 'The Waltons'.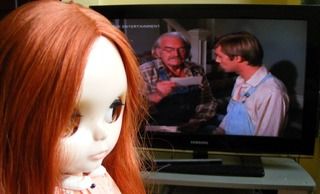 I very much approve of the values of this program, and the woman seems very keen on it, so obviously has some integrity however basic, I believe her to be not entirely a lost cause!
It makes me curious as to what my Blythe sisters around the world enjoy watching on the television, perhaps they could recommend other interesting teleplays.
Although this program seems rather important to the woman, I can't help notice that she spends more time sitting watching the show than following its example, but I'm sure that with time I can have some influence on her slothful tendencies! I intend to use the next days crafting a secret weapon to help me in this task.