| | |
| --- | --- |
| Posted on November 16, 2012 at 5:45 AM | |
I have been asked recently for more info n Tangkou dolls so here's a bit of info and comparison pics...
First of all, Liv and Barbie clothes are a good fit for Tangkou.  Barbie shoes will not fit, however, but Liv ones mostly will.  Careful with boots though, if they're tricky to get on and off sometimes Tangkou's foot can pop off inside the boot 
As you can see the proportions of Tangkou and Liv are very similar...
Okay, hair...
Italia, England, China and Audrey Hepburn all have rooted hair like Blythe.  Italia and England sometimes have slightly wonky fringes though ;D.  China had lovely soft hair and there is lots of it, they also have scented hair!  
There is a problem with Audrey's hair in that it is only rooted around the edges but she is bald in the middle!  So long as she has her hair up this is okay but limits styling options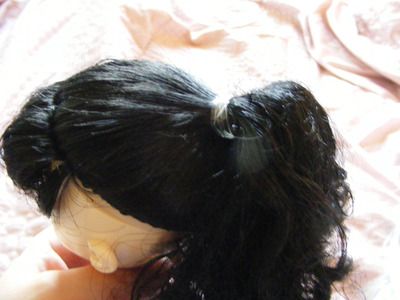 Hair up
Hair down
Aussie and France have faux fur wigs, I have heard they are easy to remove but haven't tried myself yet (though I do have an Aussie on the way!)
Vampire, Loli and the upcoming Grace all have removable wigs.  The wigs have elasticated caps so are easy to put on and remove and stay in place well.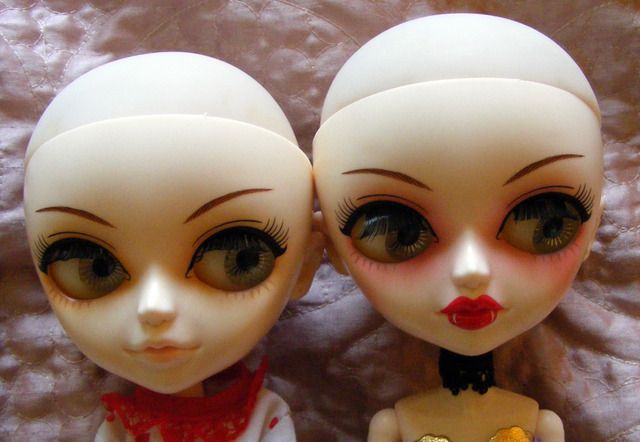 Loli and Vampire without their wigs!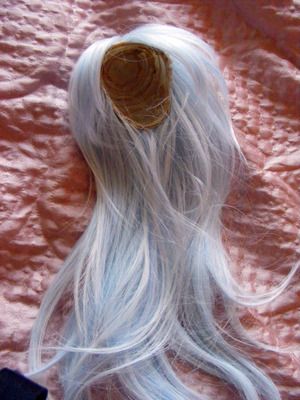 Loli's wig (which is lovely!)
All of the dolls so far as I know, have the same eye colours (she has 4 colour change eyes like Blythe).  Bit they are operated with a button rather than a pullstring.  The mech can jam from time to time though.  If it jams a good tip is to close the sleep eyelids and then operate the colour change eye mechanism

Eye colours are - smoky purple, silver grey, smoky grey and green.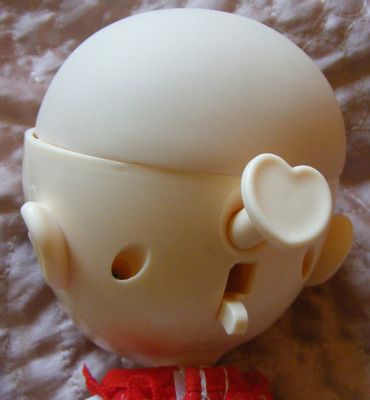 Eye mech controls... press the heart shaped button to change eye colour, the switch operates the sleep eye mech which can be locked in place to keep her eyes shut.
Due to the ability of Tangkou to keep her eyes closed 6th Sense have decided to prettily decorate the eyelids of each girl - here are some comparisons...
The gang...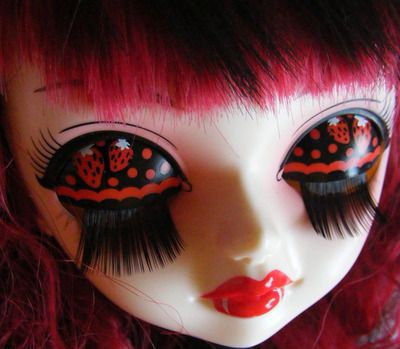 Vampire's red strawberries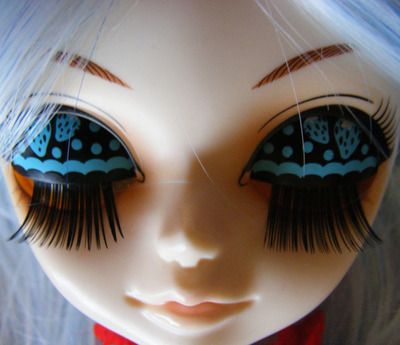 Loli's blue strawberries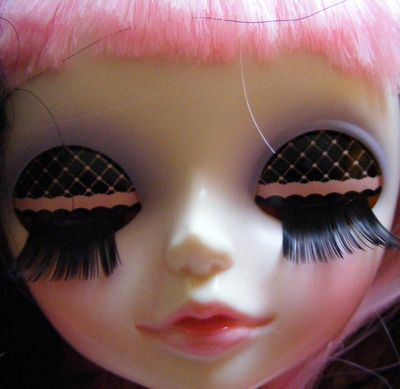 Italia's criss cross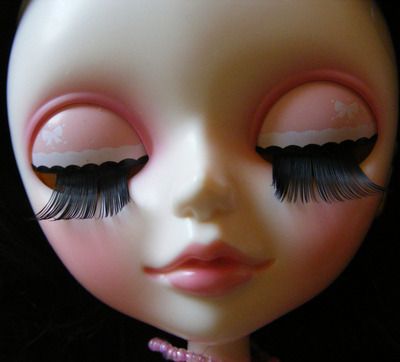 China's bows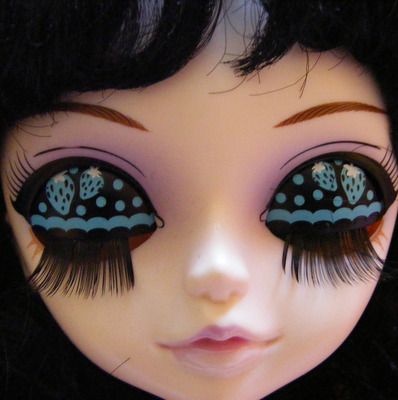 Audrey also has blue strawberries.
The makeup for Italia, England, France and Aussie is the same I think with pink lips, pink blush, purple eye makeup and no eyebrows.
China is similar but has pink eyeshadow.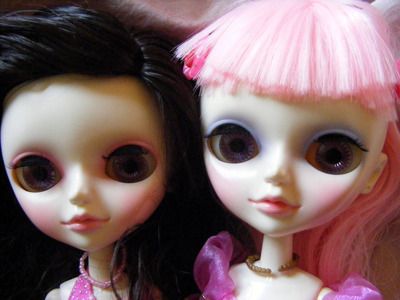 Vampire has unique makeup... with the addition of fangs, eyeliner and eyebrows plus fuller lips...
Loli and Audrey have the same style of makeup but Loli's is nuder and Audrey's is purpler.  Both have eyebrows and eyeliner.  The promo pics of the new Grace doll shoe makeup similar to these two girls...
I hope these are helpful, please contact me with more specific requests for info and photos
 my girls LOVE to be the centre of attention ;D
Holly x
Categories: Tangkou Dolls