| | |
| --- | --- |
| Posted on August 17, 2010 at 8:28 AM | |
I know I have ranted on in the introduction about using dolls in a positive and responsible manner.  This post is to offer a concrete example of how dolls can be used for good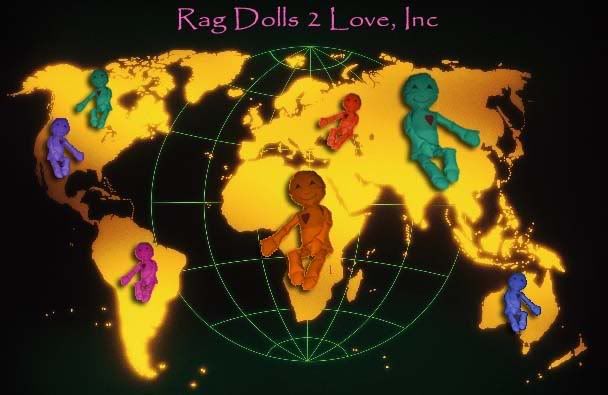 According to their website Rag Dolls 2 Love is a non-profit, project through which volunteers create cloth dolls to put in the hands of children who live in countries ravaged by war, are orphaned or infected by HIV/ AIDS or traumatized by natural disasters. 
These cloth ambassadors bring love to children who are being turned into adults all too quickly by their everyday life. This isn't just a doll. It is a doll without hair, it is a doll without clothes. It is a doll who has nothing but its heart, its smile and its face. This doll is something that can't suffer and can't die. It offers children solace that, unfortunately, real life doesn't offer. It becomes real when it is loved by a child who hugs it at night, whose tears wash its body, and who tells it the secrets buried in a child's heart.
Rag Dolls 2 Love is a gesture of understanding. The volunteers who make the dolls put love and caring into their stitches, knowing that the doll will be in the hands of a child who has so little, a child who needs this love. One volunteer wrote, "It is one small way I can make a difference in the lives of children who are traumatized by life."
Imagine, over thirty thousand distressed and traumatized children have found comfort in these rag dolls!
If you would like to take part in this project then I would advise you to visit the official website.
Holly x