The current brouhaha over the possible sale of the iconic BBC Television Centre building got me feeling nostalgic (thanks Charlie Brooker!).
To me, and to many, that building is inextricably linked to my childhood and to memories of the single, scant hour of childrens' television scheduling which we were allowed back in the 70s and 80s.
This golden after-school highlight of the afternoon always began with the much anticipated words 'Now, it's five to four and time for 'Playschool'.'
For those of you too young, or too old, or born too far afield to have enjoyed 'Playschool' I can only say that I pity you...
Playschool was a simple, but rarely patronising, show for the very youngest viewers, featuring some highly talented presenters who seemed commited to the filed of childrens' entertainment rather than wannabes on the ladder to 'proper' adult programming jobs.
In adition to such presesnting legends as Brian Cant, Johnny Ball, Derek Griffiths and Floella Benjamin the show was hosted by a whole cast of loveable, if dog-eared and fundamentally inanimate toys, including; Humpty, Big Ted and Little Ted and the two dolls Jemima and Hamble.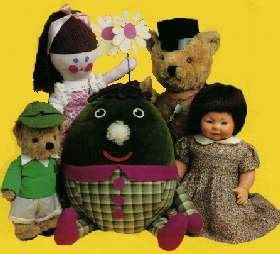 Although Hamble was always my favourite of the toys, apparently she was generally detested, both by the audience and her costars as is revealed in these exceprts taken from the BBC's 'Cult Classics' website.
'Although it was originally a very common type of doll, sold in Woolworths, by the time Play School was in full flow there were only two Hambles in Britain. The other was owned by a woman in Chester, who would hire it to the BBC for £40 a week whenever the Play School regular was injured.
That happened quite often, as it wasn't just the audience who detested Hamble. None of the presenters could stand her either, so she'd get drop kicked across the studio, and once, when she wouldn't behave, Chloe Ashcroft took a dreadful liberty.
"I did a terrible thing to Hamble. She just would not sit up...so one day I got a very big knitting needle, a big wooden one, and I stuck it right up her bum, as far as her head. So she was completely rigid, and she was much much better after that."
Hamble was the only toy not to make it through to the end, being replaced by black doll Poppy in an 80s attempt to be more inclusive. That's their story as to why she went, anyway...'
Another equally fondly rememberd show for generations of children is Blue Peter, filmed in the same studios.  My favourite part of the show was the 'makes'.  I recall instructions on how to construct your own Sindy doll four poster bed, and kitchen or here is a link to a 'doll's hammock' make you could perhaps try yourself, if you have enough double sided sticky tape.  Do let me know how you get on.
While we're on the subject two other tv dolls indelibly imprinted on my psyche include Madeleine the rag doll from 'Bagpuss', and my all time favourite 'Tottie the Story of a Dollshouse' based on the book by Rumer Godden.
Thankyou for looking through the doll-shaped window back into my childhood tv memories.  What are yours?